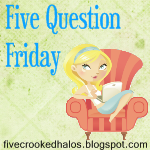 This meme is run by Mama M every Friday. Click on the picture to be taken to her blog.
1. Have you ever had roommates?
As a small child I shared with my sister, however as we got older, this became more and more traumatic for my parents and we eventually got moved to our own rooms when I was about 12. The fights that occured in that single room are legendary, lol. When I went nursing I lived in the nurses residence and for the first few weeks we shared a room. I was with a girl whos name was also Tracy, and we got on ok, but after about 6 weeks we got our own room. At the moment I have a roommate since my daughter seems to think she lives in my room!
2. How many names do you/your children have? (i.e. Prince Charming William Phillip Arthur Louis John Jacob Jingleheimer-Schmidt)
We both have two, in fact all of my family have two. Well, that is two without the surname.
3. Did you watch the Royal Wedding?
Every minute of it until just after the balcony scene. I had to go and fetch Brenda from school after that, but I can assure you that I delayed it until the last possible moment. I absolutely loved it. I know there were a lot of people who complained about it, but I thought it was beautiful and besides the wedding, the crowd spirit looked amazing, the pageantry was gorgeous. Seeing all the scenes in London also took me back to my time there.
4. What is the messiest room in your house?
Ummm, all of it. The room where we have our computers though probably is the messiest, but tidiness is a constant struggle around here.
5. What is your ideal mothers day?
Breakfast in bed, a good book, out to lunch with my family all around me.