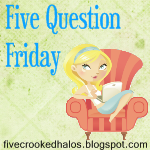 Questions for Friday, April 22nd: (Special thanks to @TylerH2102, @jengacek, Pam,Rachel, and Sandy for their question suggestions! I'd LOVE to link YOU in a future 5QF, just c'mon over to my community and offer up your best question suggestions! It's getting a little sparse over there, so I'd LOVE some more questions to choose from! Also, watch for my weekly Thursday shout out for questions on Twitter [@5crookedhalos]!!)
1. What is your favorite Easter tradition?
I absolutely love going to two services on Easter. The first one is the Maundy Thursday service, I always feel that by going to this service it allows me to start to focus on Easter and its meaning. I also love the early morning Sunday services which I think is beautiful, I love how they start by lighthing the candle and the dark church slowly fills up with light.
Unfortunately I didnt get to go last night since the weather was just miserable and Brenda was not feeling well, and then on Sunday I am helping with the babies at the 8:30 service, so not sure if I will get to the early one either.
Of course, I also love roast lamb on Easter Sunday.
2. Are you a "shower" or a "long, hot bath" kind of person?
Once again, a bit of both. I love a shower, it makes me feel refreshed and clean, and definitely on a work day it is quick and easy. However, sometimes nothing beats a nice, long bath. I love to take a book and a drink into the bath and read for ages in the bath. I keep adding hot water as the water cools. I dont get to do that very often though.
3. Can you parallel park and if so when is the last time you did it?
I can parallel park, but prefer not to if I can help it. The last time I did it was in Umhlanga about 6 weeks ago.
4. What is your favorite Easter candy?
Two things, which I definitely was not able to get when I lived in the UK, so not sure if you get them in the US either.
First one is marshmallow eggs. This is a flattish (around 2cm thick oval disk of marshmallow, it has a yellow centre with white around the outside, so it looks like a thick fried egg. The whole thing is then covered in chocolate. A real favourite in my house and they are relatively fat free in comparison to other chocolate eggs. Sorry for the tiny picture, it was the only one I could find.
The second one is called hens eggs. Basically it is a hollow hard sugar candy egg with a thin layer of chocolate (about 3 mm thick) coating the inside. I like to eat the candy off the outside and then lick the chocolate on the inside. You can also colour the outside. Of course, I do love your bog standard chocolate bunnies etc, but these are my favourite. I always think that chocolate just tastes so much better when it is shaped into an easter bunny!
Not candy, but I adore hot cross buns too.
5. Easter: do you go all out with the Easter Bunny or focus on the religious part of the holiday?
I used to do a bit of both. Focus on the religious part mainly, but always did an egg hunt on the Sunday. However, the last couple of years Brenda has been to stay with my sister for Easter. I dont think she does either, although they do go to church.
I really enjoy this meme, so why dont you pop over to My little life (link above) and join in.